Home
»
Minnesota Rent Assistance
»
Marshall Rent Assistance
Western Community Action Marshall
1400 S Saratoga St
Marshall, MN - 56258
(507) 537-1416

Help Us Help You
---
About Western Community Action Marshall
Western Community Action operates a number of programs designed to help people stay in their homes or get set up in affordable housing if they are homeless or about to become homeless.

Our case managers can aid in the search for affordable housing, connect people to employment resources, and work with the individual or family on creating a plan for long-term housing stability. In these economic times, people who never thought they would need assistance are seeking services. Our staff can help you create and work toward your goals so that these temporary "bumps" in the road can be dealt with while moving forward to a successful future!

Assistance type and amount varies depending on a person's situation and their eligibility. However, we are often able to assist with past-due rent or mortgage, first month's rent and deposit for homeless individuals and families, application assistance, transportation assistance, and more.

*Not all people may be eligible for services, as eligibility differs for each program and all assistance is subject to availability of funding.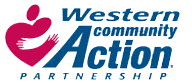 Locate Western Community Action Marshall
---
Contact RentAssistance.us
* IMPORTANT *
Contact
Western Community Action Marshall
directly at (507) 537-1416 for rent assistance.
---
Do you have a comment about your experience with Western Community Action Marshall?
Contact us on Facebook:
Go To Rent Assistance Facebook Page
Do you work for Western Community Action Marshall and would like an update to your listing?
Contact us on Facebook:
Go To Rent Assistance Facebook Page
---